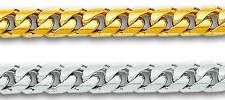 What are Cuban Link Chains?
Cuban link chains (or sometimes called Miami Cuban Link Chains) are a special type of jewelry. The necklace links are thick, strong, and have flattened faces.
Cuban link chains are generally found as gold necklaces and bracelets for men due to their masculine appearance and heavy weight. A more common version for women is called a Cuban Concave Curve. This version tends to have thinner links and a rounder, less massive appearance.
14kt gold is the most common metal used for cuban link chains, but white gold and even silver are also frequently used.
How Valuable are Cuban Link Chains?
Cuban link gold chains are very popular right now. Since they are still being produced, they are not generally sold for more than their gold weight (which can be considerable, given their usual thickness).
If you come across a 14k gold cuban link chain for less than the market price of the gold, it could be a wise investment. Just remember that 14k gold is only about 58% pure gold, so you can take the total weight of the chain and multiply it by 0.58 to determine the amount of pure gold.
Here is a simple article if you'd like to easily price your gold jewelry at home.