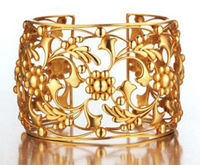 So you've decided you want to sell some of your old gold jewelry and now you want to know how to get the most money for your gold. You've come to the right place.
Step 1: Find Out What Your Gold Jewelry is Actually Worth
Before deciding how and where to sell your gold jewelry, you need to find out what it is actually worth. Jewelers, pawnshops, and online mail-in businesses will tell you how much they will pay for your gold jewelry, but these are biased sources of information. If you go to them with no idea of the real value of your gold watch or necklace, it is very unlikely you'll get the best deal. News reports and first hand account are full of stories professionals intentionally undervaluing gold so they can buy it from you for less.
The best way to find out how much money your gold jewelry is worth is to get it appraised. This will cost a little money, but if you have a decent amount of jewelry or just one high value piece, it will be worth it. A certified appraiser will generally cost about $50 to $200 dollars per hour.
There are two main certification agencies for jewelry appraisers. Visit the following sites to find an appraiser in your area:
National Association of Jewelry Appraisers
American Society of Appraisers
If you are only selling a small piece or a little bit of spare jewelry, you can skip the appraisal and look on sites like eBay, craigslist, or Amazon (Gold Jewelry search)
for jewelry similar to yours. See what it is selling for. eBay has a great feature where you can view auctions that have already ended and see what the items actually sold for. This is a good way to see what a reasonable price is.
Step 2: Figure Out How You Want to Sell Your Gold Jewelry
If you hire an appraiser, he or she will be able to give you some advice regarding whether you should sell your gold jewelry to be resold as is or sold as scrap. If your gold necklace has a high level of craftsmanship, is made by a renowned jeweler, or has some interesting history, you will probably be better off selling it as a complete piece. If it is broken, scratched, tarnished or missing any pieces, you will probably be better off selling it as scrap gold.
Step 3: Figure Out Where to Sell Your Gold Jewelry
Here you have a few options.
Local Jewelers
Local jewelers will generally give you a good percentage of the value of your piece. However, remember that they also have overhead to pay and have to include some room for them to make profit when they sell the piece. You may want to call ahead to ensure that the jeweler buys used gold jewelry because not all do. Also, double check that they will give you cash rather than in-store credit.
Pawnshops
If you just can't get rid of your gold jewelry anywhere else, pawnshops can be an option. They will generally not give you as much money as a jeweler, but if you have low value items and need cash quick, pawnshop could be a decent option for you.
Online (Mail-in) Businesses
If you're selling your jewelry off as scrap, this can be a viable option. Reviews are mixed on these businesses – many say these companies can give you the best value for your gold because they have low overhead while others say most of them won't give you anywhere near the market rate for your gold.
If you decide to try one of the online gold companies, do some research into their reputation (see the Better Business Bureau link at the bottom of this article). Also, be aware that when they send you a check or make an offer, you can still negotiate with them. Some journalists have reported that many of these companies will nearly double their estimate if you turn down their first offer.
Have a Gold Party
Gold Parties have recently come into fashion. They are similar to Tupperware parties where a group of your friends get together and they bring any used jewelry they want to get rid of. A local gold party representative comes over, appraises all the gold items and usually gives out cash on the spot. Look online for companies and they will find a host in your area.
Opinions are also mixed on gold parties. Some say they are a quick and fun way to get some cash in your hand for your old gold jewelry and others say most local reps will not give good value because they have to pay a percentage to their host companies. Either way, do a little research on who you're calling and it never hurts to ask for references.
Final Word
Whichever option you choose, it is always a good idea to do a quick search on the business you are thinking of dealing with on the Better Business Bureau website. These are valuable items you are dealing with, so this quick step could save you a lot of money and heartbreak.
Better Business Bureau website
If you have any questions, feel free to leave them in the comments section and I'll try to answer them (or add them to the article). Thanks!